WALLACE NORTH ISLAND
British cat of chocolate colour (BRI b)
Date of Birth - 25.08.2006 ă.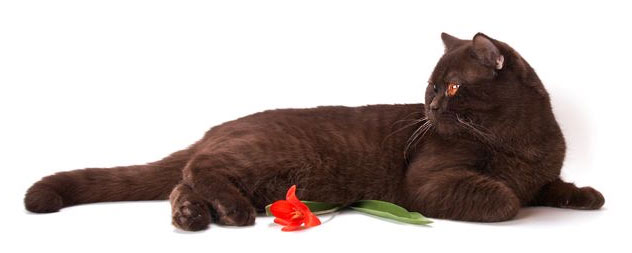 Most popular family tree members:
W.CH. PORTOS (BRI c);
W.CH. ZORRO ALEXANDER – FRED FROM SWEET WEY (BRI c);
W.CH. NICODEMUS II BLU VERNISSAGE (BRI a);
G.E.CH. BELGIUM FIDEEL VAN DE NEKKER (BRI c);
It has been our dream to get a highly exterior British cat and as soon as the circumstances allowed us to do that, a beautiful chocolate Brit named Wallace (pet name Deer) appeared in our house. Deer became the most beloved family member at once. He grew up very fast from little bear cub kitten into a stodgy British cat with a languor look of his copper eyes and amazingly think and beautiful stuffed fur of rich chocolate colour. Deer has completely proved his pet name and is gaining weight by minutes (at the age of six months he weighs five and a half kilogrammes (a stone))! He is quite a perseverant cat by his character and can reach his aim by any ways, but he is very kind at the same time and loves to be in the centre of attention.
It must be said that Sharon did not accept Deers' appearance on her territory and only due to his perservance and patience she accepted him into her family only after six months. Not regarding the fact that Deer is much bigger than Sharon, for him she is an authority not to argue with. It only takes a strict look from her to make him fall flat on the floor and take up a position of complete obedience. Deer is showing all his kindness and gentleness to Sharons' kittens. He is their second mum – it is his favourite activity to bring them up, clean them and sleep hugging them!
Deer has just began his exhibition career, but this young cat has got all of the qualities required to get high marks from the judges at the exhibitions. We hope that this page will be added up with his new titles in the future. In the near future, our nursery is planning to get offspring from Deer and Sharon – charming kittens of black, chocolate, lilac and sky blue colours. We will hope that the kittens will inherit the best exterior qualities from their parents and famous family members.
Title certificate